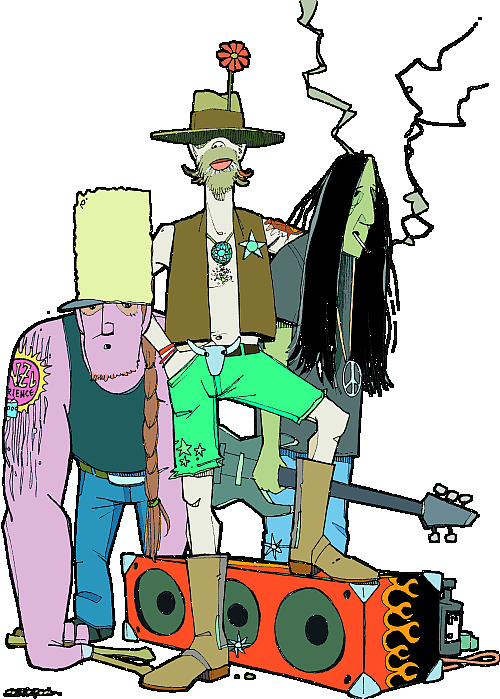 Short version:
Power-Blues Rock from Western Vienna, in the tradition of Jimi Hendrix, Stevie Ray Vaughan and a thousand others.
Long version:
Over the past 16 years, the viennese Power-Bluesrock trio FENZL EXPERIENCE gained some kind of cult status. The exceptionally virtuosic guitarist Edi Fenzl, the groovy bass player Jan Fenzl and the explosive drummer David Fenzl form a perfect symbiosis and play the blues like it's usually done just in Texas. Their repertoire includes own compositions as well as classics from Jimi Hendrix, Stevie Ray Vaughan, Johnny Winter, ZZ Top and many more. Unique is their legendary "Fenzl-Equipment" (see below), the Guitar-Longhorn and the flower on the hat. Not only fans of dusty blues and rock get their money's worth.
The Fenzl-Equipment:
The special Fenzl-Equipment was developed with Papa Fenzl, to play in smaller locations that struggle with angry neighbours due to loudness. It consists of the Suitcase-Drums, the Guitar-Longhorn with a 5W tube-amp and a car-speaker bass amp. This produces an original vintage sound at a low volume and fits in to a medium sized elevator. The so-called "Fenzl Equipment" is completely battery powered and also suitable for wild offroad duties.